Description of concrete spraying system
Instruction of concrete spraying machine:
The concrete spraying system refers to the concrete shotcrete machine that operates the nozzle for spraying. There are two ways of walking with rails and tires. The former is suitable for mine roadway injection, the latter is mostly used for tunneling and large section diverticulum project injection.
Concrete shotcrete machine feature :
The working mechanism of concrete spraying machine is composed of a nozzle rotating mechanism, a four-link automatic parallel arm, a sleeve telescopic arm and a swing angle scanning arm.
The shotcrete machine uses a pressure-transporting concrete mixture to directly project onto the rock surface through a nozzle to form a consolidated concrete protective layer.
Common use of shotcrete machine:
1.Underground mine shafts, tunnels, diverticulum supporting;
2.Temporary roof protection for the slope and construction of filling barrier walls and other underground engineering supporting;
3.Concrete spraying system can also be used to spray surrounding rock seepage and weathering protection layers;
4.Most of shotcrete machines are used together with anchors to improve the ability of supporting.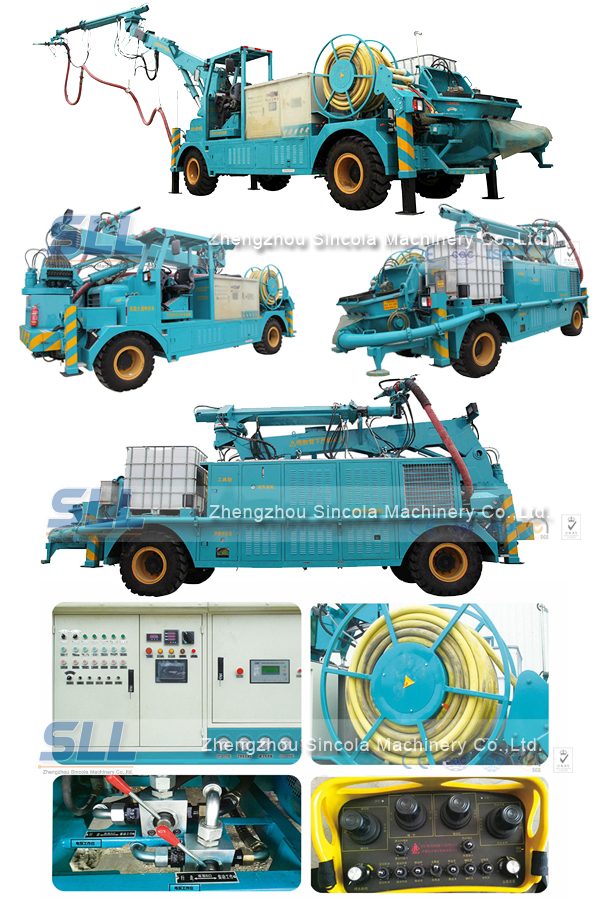 Inquiry Sincola Whatsapp Wechat Line:

+8613027728770